Sportsbook platform feature overview
All our sports betting script related products can be tolerated to the different markets. Basic features:
Fully customizable functionality
Multiple language support
Multiple currency support
All odds formats supported (American, Decimal, Fractional, Malay, Hong Kong)
Advanced risk management
Multiple payment methods, such as MasterCard, Visa, Skrill, Entropay etc.
Page skin customized by your needs
All wager types supported
Compliance with the majority of the gambling jurisdictions. In addition we are ready to implement compatibility with your chosen gambling jurisdiction requirements, if needed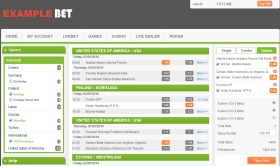 Sportsbook
We can offer you solution in sports betting with all tools that you could need to successfully operate on desktop and mobile platforms. We can also offer you live betting and create a mobile application.
Betting Shop
Our Betting Shop Software can be used in the form of stand-alone solutions or connected to your primary database in order manage network of betting shops.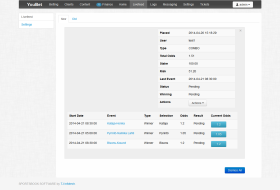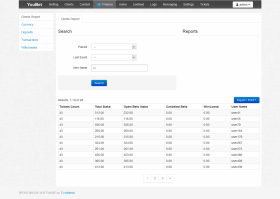 Multi level agents
Multi-level agents can help to increase your profit. They earn commissions based on the gambling revenue from customers they brought. Our offering multi-level agent decisions have various users management models. Moreover there is possibility to change proportion of commission splitting and customize hierarchy of user management.
Please contacts us to for demos and pricing.